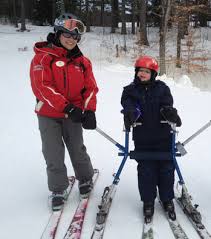 Arrival Time
The Program Coordinator will of by now met with you and your family, and you will be arriving for your first lesson with you instructor(s). Typically lessons start at 6:00 and go for 45 – 60 minutes on the snow. Plan on arriving at 5:50 to start getting ready, and expect to have 15 minutes of socializing and debriefing in the lodge over a hot chcolate after the lesson.Its reasonable to expect to be there for ~ 1.5 hours total with getting ready, lesson and debrief.
Drop Off and Parking
There is a drop off zone outside the day lodge's bottom door. *We are working on handicap parking.* We meet on the second floor of the day lodge to get our ski gear on. If you need rentals, we will go to the rental shop to pick those up. If you need help getting your self or your student into the day lodge, let the program coordinator know. Access is tricky at the old day lodge, but we have various ways and means of assisting you to the door.
Warm Clothing
Wear warm clothing, particularly a head covering, like a belaclava, that fits under a helmet. Hand warmers for your hands and feet might be a good idea if you have poor circulation. Layer your clothing and wear a warm, windproof jacket and pants. Please bring a helmet if you have one.
Lift Pass
Your instructor will provide you your lift pass for the evening.
Spectators
Family, friends and parents who won't be on the snow with the student can watch from the day lodge second floor quite well – there is a large window that faces the slopes.